Integration with TeamViewer takes ZealiD e-signature to new horizons

ZealiD Team
As a Qualified trust service provider, ZealiD is on a mission to offer remote services that are fully compliant with EU regulation, reliable, and easy to use. That is a strong combination by itself but finding the right synergy with neighbouring services is what takes it to another level. Zealid's partnership with TeamViewer is no exception.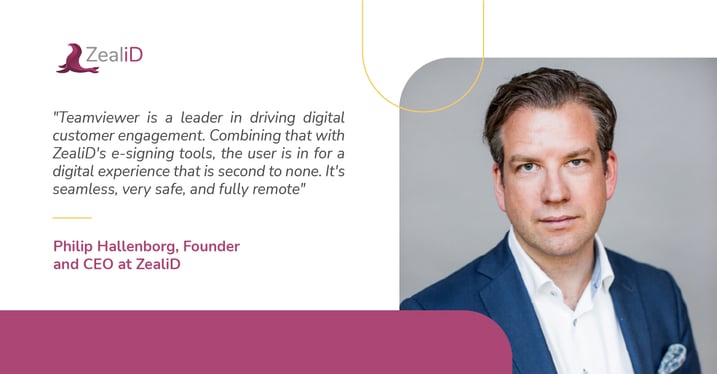 TeamViewer Engage is a web-based customer engagement platform for online sales, digital customer service, and video consultations that empowers companies to elevate their customer experience for lifelong brand loyalty. Combining multiple communication channels, it takes the user from the first contact to a signed contract. It charts an effective path to sales through chat bots, live chat and live video that allows co-browsing and co-signing. This combination brings strong advantages to the users, offering fully remote service, easy access, and much shorter waiting times. But digital interaction with service providers also carries legal weight. It's where e-signature comes in, charting an organic link between TeamViewer and ZealiD.
ZealiD integration in TeamViewer Engage allows users to sign contracts with a Qualified Electronic Signature. All the user needs to onboard is their ID, a smartphone and a 3-minute self-service registration on the ZealiD app. Once their identity is confirmed, it only takes seconds to sign with QES.
"Teamviewer is a leader in driving digital customer engagement. Combining that with ZealiD's e-signing tools, the user is in for a digital experience that is second to none. It's seamless, very safe, and fully remote", notes Philip Hallenborg, Founder and CEO at ZealiD.
Learn more: